We still remember that day back in 2005 when we decided to embark on the HonestCasinos.com adventure. We were three friends willing to make the difference for gamblers, because we are gamblers ourselves. All of us have played extensively at hundreds of online casinos, and we know the online gaming industry better than most. Since things change quickly in the online gaming industry we correspond with a large number of other players to keep on top of which casinos are safe to play at, and which casinos one should stay away from.
Let's be honest: how many of you have been scammed? A lot. And that happened to us too.
That's why we wanted to create something different. A website where gamblers can find help for their choices and then make responsible decisions.
That is why HonestCasinos is different.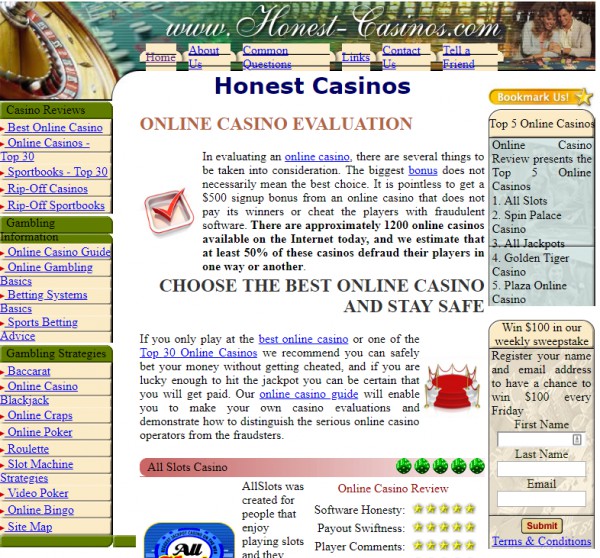 This is how the site changed over the years. 2009
You will never find a dodgy or unknown gaming company on top of our suggestions. All of our online casino reviews have been carefully crafted to show you who they really are and how they do it. We don't accept advertising of any online casino that we would not play at ourselves with complete confidence of getting an honest game.
From the software platform to the deposit options, from the registration process to the real gaming license registered with official government agencies, you will find everything you need to make a responsible decision.
We are here to stay and serve our proud and loyal Gamblers Community!! Please get in touch with your experiences from online casinos, or with comments on how we can improve this web site.
Forget all of your worries and let's play now!!
The HonestCasinos Team